Best Time To Visit Dubai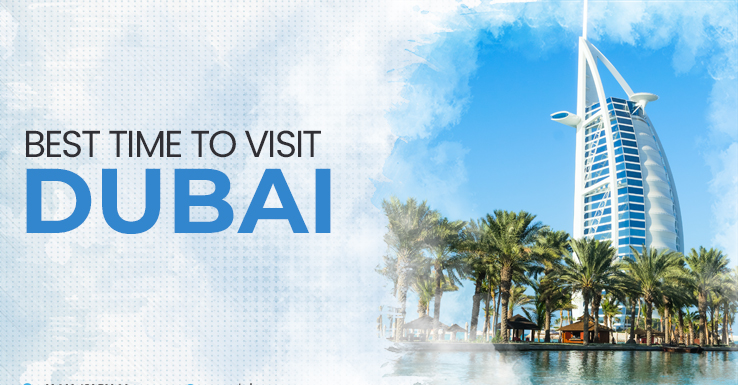 Is Dubai really beautiful? Well, yes, several people have called Dubai City one of the most beautiful cities in the world. Several people visit Dubai from India and other countries for travel, work, business meetings, etc. It is a place of heaven with lots of beautiful beaches, homes, restaurants, five- and seven-star hotels, water parks, etc. But several people are confused about which is the best time to visit Dubai—along with family or alone—because the temperature of the city is quite high due to the lack of rain in the city. But do not worry because Dubai city is one of the best places to hangout.
Talking about the Dubai weather can be a bit extreme, with hot summers and mild winters. But do not worry about the weather, because in this short blog, we are going to cover which is the best season and month to visit Dubai so that you can have an unforgettable moment. Get ready to take a tour at the points below.
The Best Month to Visit Dubai
As per travel guidance in Dubai, if you really want to enjoy the city and have time, then the best time to visit Dubai is between November and March. You will love the weather in these months and travel more with your loved ones; it is generally one of the most beautiful and excellent experiences because it is the time of a little bit of rain, thunderstorms, and lightning in December and January.
Several people visit the Dubai shopping festival in these 4-5 months, where you can snap up some incredible products like electronics, gold, and other brands. Always make sure that follow all the travel guidance of the city and state to make your trip one of the most memorable in your life. Below are the complete details of the Dubai city and what types of festival is going on in which month.
Dubai in November
If you guys recently got married and are planning an international trip, then Dubai is the perfect destination, especially for honeymoon couples in this season. You guys will easily explore everything in the city, from the sun to the sand to the desert safari. Why choose Dubai? Dubai is the ideal honeymoon destination for newlywed couples because they can feel the perfect timing of honeymoon magic while exploring Dubai's perfect nightlife and perfect meals at the finest restaurants. Get ready to feel the magic of Dubai hotels and food.
Temperature: 26 degrees C
Events: Global Village, Gumball 3000, Ripe Market
Dubai in December
What is the shopping festival in Dubai? If you love to do shopping, then do not forget to visit in the month of December because this is the month where shopping festivals happen, especially for shopaholics who can shop anything in the city with the perfect weather. December is also the best time to visit Dubai for shopping and perfect dining with your partner.
Temperature: 21°C (71°F)
Events: Global Village, UAE National Day, December 2, NYE Celebrations at Burj Khalifa and Atlantis, SOLE Dubai, music and arts festival
Dubai in January
If you really like winters and want to travel in them, then welcome to the city of Dubai, especially in January. Is it very cold in January? Well, yes, in the month of January, the weather is quite cold here because it is the perfect time to hang out with your special ones. Do not worry about the winter; just pack your bags with boots and shoes suited for unlimited fun and play. Dubai is the shopping heaven of the world. The festival shopping starts here in December and goes until January. Get ready for unforgettable moments with our Dubai tour packages.
Temperature: 20°C (67°F)
Events: New Year's Events around Dubai, Global Village for festivals, Dubai Shopping Festival, the biggest festival in the world.
Dubai in February
We have discussed a lot about the shopping festival, restaurants, and beaches. Now is the time to do some outdoor activities. Dubai is famous for the palm, jumeirah, sand rides, desert safaris, etc. Get ready for a dip at Dubai's best beaches as the waters warm up. February is the only month in Dubai where you will enjoy a lot, especially the outdoor games and sand rides. Do not forget to carry an umbrella and rain gear.
Temperature: 21°C (70°F)
Events: Global Village, Taste Dubai food festival, February 3-5, 2023, Jackson Wang magic show.
Conclusion
From the top of Burj Khalifa to the AIN Dubai ferris wheel, there are lots of desert safaris to soak up the Dubai heat. Dubai is one of the most amazing cities for holidays. If you are looking for the best reasonable packages within your budget, then Travools will provide the best Dubai holiday packages. We hope the above information is quite beneficial for you, and if you still have any doubts related to Dubai or any other city holiday tour packages, our executive will provide you with brief information at low prices. Get the best tour and travel company offers with the help of Travools for Dubai tour packages and other places at a low price.