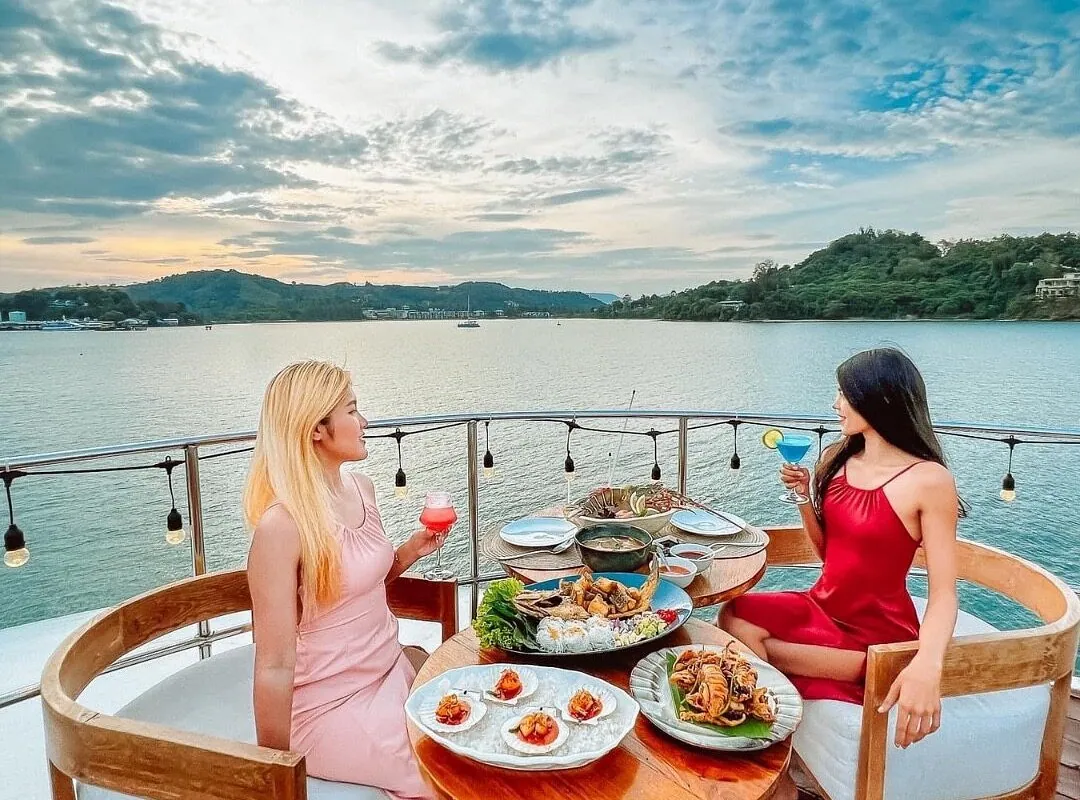 Phuket unveils a tapestry of tropical wonders that captivate the soul. From the vibrant energy of Patong Beach, where the azure waters meet bustling streets and nightlife comes alive, to the serene allure of the iconic Big Buddha, commanding panoramic views of the island's beauty, Phuket is a paradise of contrasts. Island-hopping to the Phi Phi archipelago reveals cinematic landscapes of pristine beaches and limestone cliffs, while the charm of Old Phuket Town, adorned with Sino-Portuguese architecture, beckons with art galleries and trendy cafes. Spiritual haven awaits at Wat Chalong, and Karon Viewpoint provides a breathtaking vista of Kata Noi, Kata, and Karon beaches. Cruise through the enchanting Phang Nga Bay, explore secluded Freedom Beach, and embrace the nightlife along Bangla Road. Conclude your day at Promthep Cape, where the sun sets in a spectacular display, casting a magical glow over the Andaman Sea. Phuket is a destination that weaves memories of vibrant culture, natural splendor, and unforgettable experiences.
Most Famous Places in Phuket :
1. Patong Beach
Patong Beach is one of the most popular and lively beaches on the island of Phuket, Thailand. Located on the west coast, it is renowned for its vibrant atmosphere, white sandy shores, and an array of activities catering to a diverse range of visitors. The beach offers a plethora of water-based activities, from jet skiing and parasailing to banana boat rides. Adventurous travelers can indulge in thrilling experiences against the backdrop of the Andaman Sea.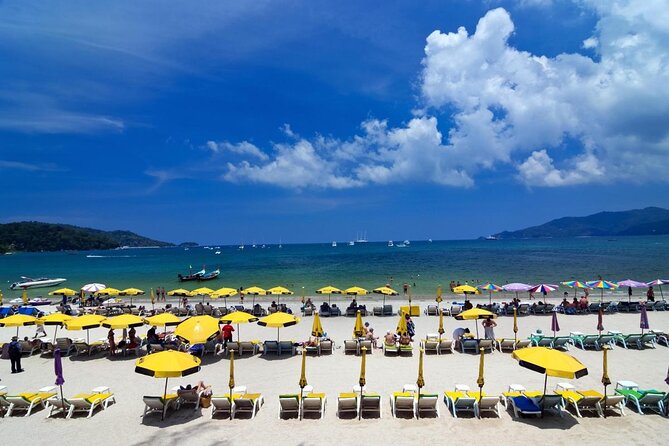 2. Big Buddha
Perched majestically atop Nakkerd Hill, the Big Buddha of Phuket stands as a spiritual sentinel, commanding awe and reverence. As you ascend the winding road to the summit, the colossal white marble statue, standing at 45 meters in height, gradually unfolds against the azure backdrop of the Andaman Sea. Beyond its sheer magnitude, the Big Buddha emanates an aura of tranquility, inviting visitors to embrace a sense of peace and contemplation. The panoramic views from this sacred site are nothing short of breathtaking, offering a sweeping panorama of the island's coastline. Adorned with intricate details and surrounded by smaller statues, prayer flags, and bells, the Big Buddha provides a serene sanctuary for reflection and spiritual connection. A visit to this iconic landmark is not just a journey to the heights of Nakkerd Hill but also a soul-stirring experience that encapsulates the spiritual essence of Phuket.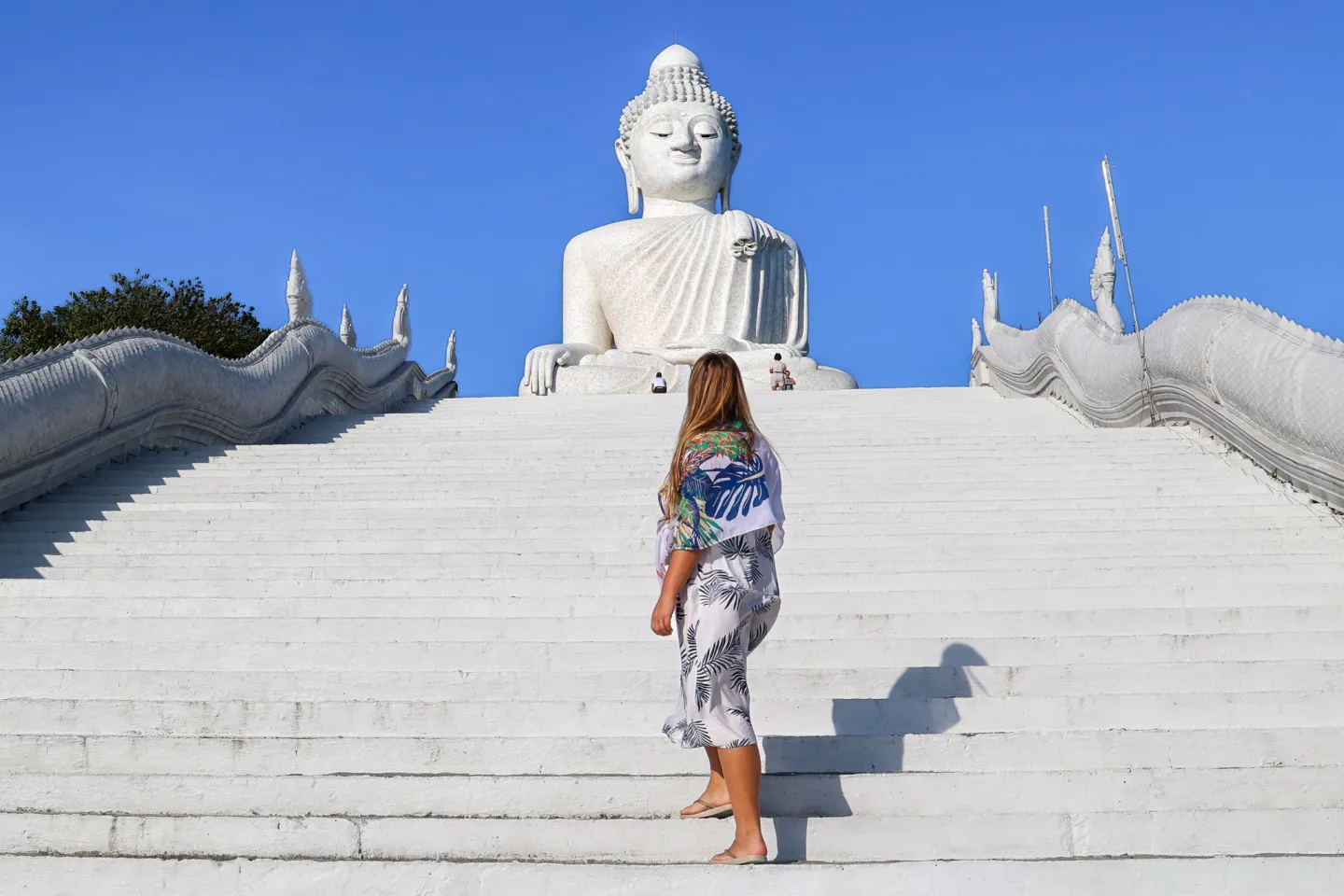 3. Phi Phi Islands
The Phi Phi Islands, a tropical archipelago situated in the Andaman Sea, stand as an enchanting jewel in the crown of Phuket, Thailand. Comprising Phi Phi Don and Phi Phi Leh, these islands boast stunning limestone cliffs, crystalline waters, and vibrant coral reefs that have captured the hearts of travelers worldwide. Phi Phi Don, the larger and inhabited island, is renowned for its lively atmosphere, pristine beaches, and a range of accommodation options. The smaller Phi Phi Leh, made famous by the movie "The Beach," captivates with its secluded coves, emerald lagoons, and dramatic cliffs. A boat trip from Phuket to the Phi Phi Islands unveils the mesmerizing Maya Bay, Viking Cave, and Pileh Lagoon, offering opportunities for snorkeling, swimming, and basking in the natural beauty. Whether reveling in the vibrant energy of Phi Phi Don or relishing the untouched allure of Phi Phi Leh, a visit to these islands promises an unforgettable tropical escape, where every corner unfolds a new layer of paradise.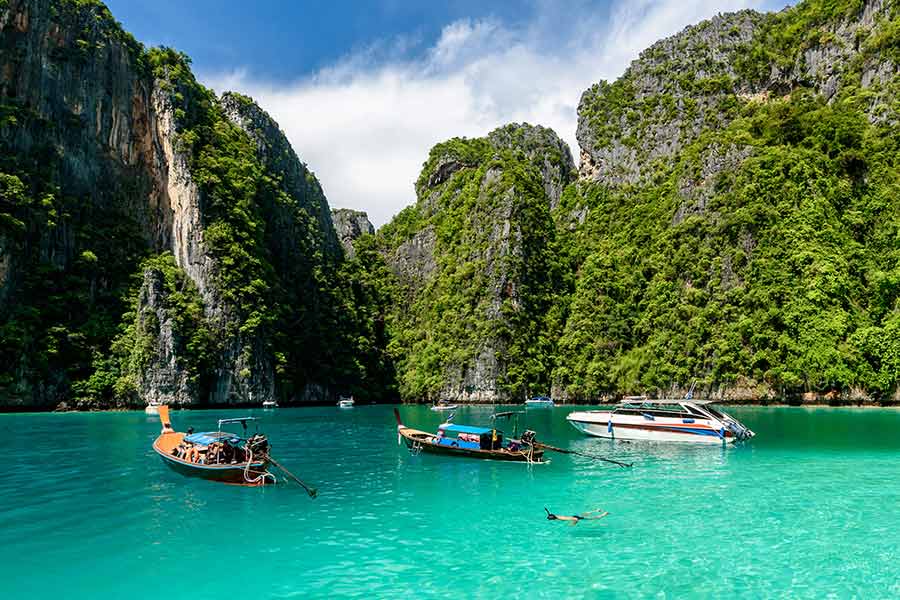 4. Old Phuket Town
Old Phuket Town, the historical heart of the island, invites visitors to step back in time and immerse themselves in a rich tapestry of cultural heritage and architectural wonders. Lined with colorful Sino-Portuguese buildings, the streets tell the story of a bygone era, blending European and Asian influences. Strolling through these charming lanes, one encounters vibrant street art, trendy cafes, boutique shops, and art galleries that have revitalized the area while preserving its authenticity.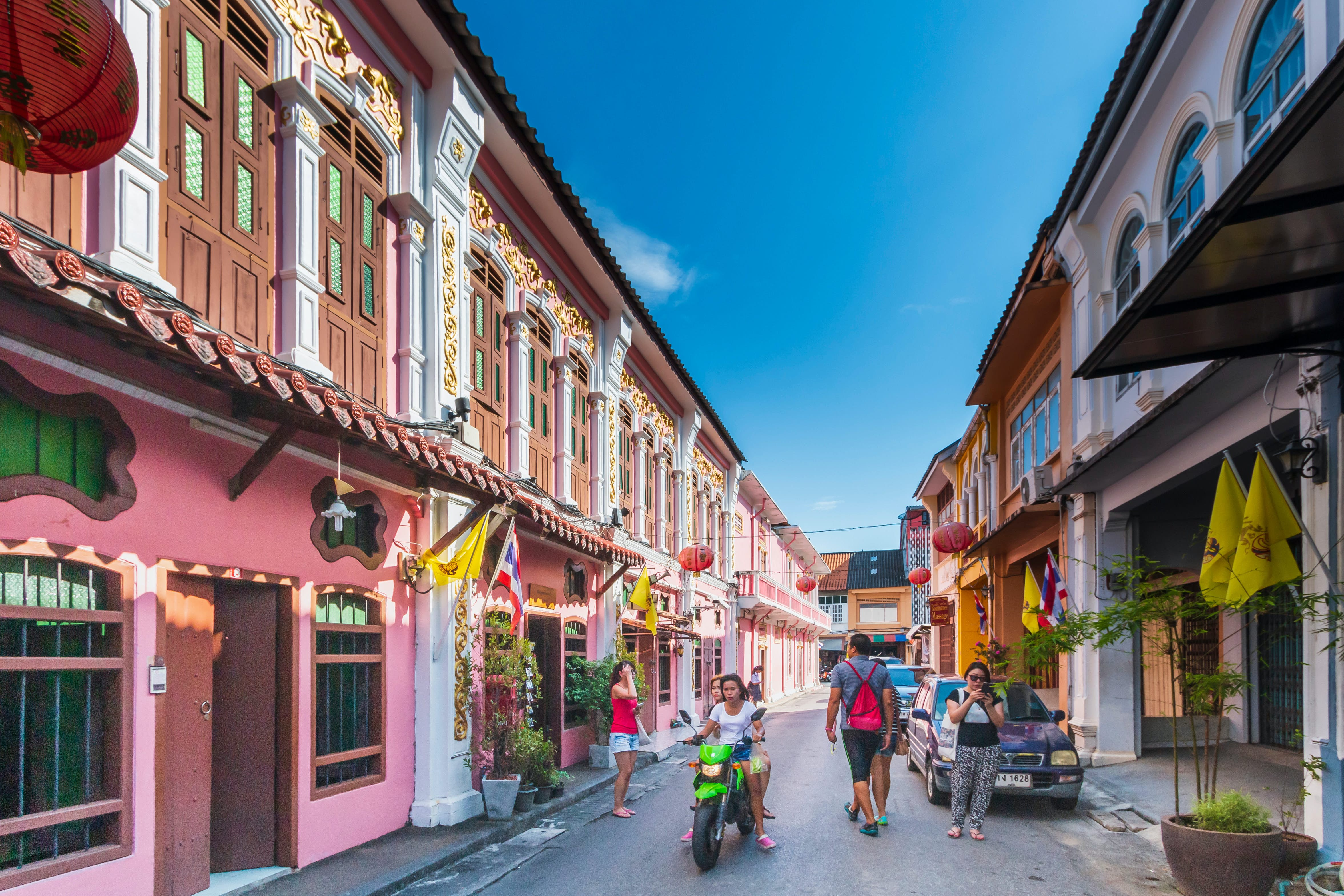 5. Wat Chalong
Wat Chalong, a revered Buddhist temple situated in the Chalong subdistrict of Phuket, Thailand, is a spiritual haven that draws visitors and devotees alike. Also known as Wat Chaiyathararam, this iconic temple is one of the island's most important and culturally significant landmarks. Its origins can be traced back to the 19th century, and it is dedicated to two highly respected monks, Luang Pho Chaem and Luang Pho Chuang, who played pivotal roles in helping the injured during a Chinese rebellion.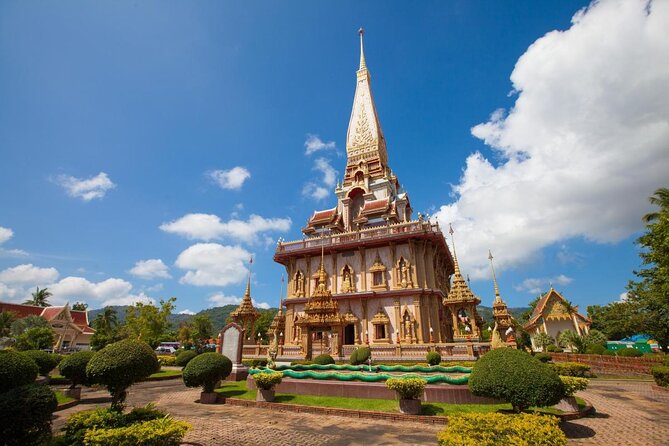 6. Karon View Point
Karon Viewpoint, also known as the Three Beaches Hill, is a breathtaking vantage point located between Nai Harn and Kata Noi beaches in Phuket, Thailand. Offering panoramic views of the Andaman Sea and the three stunning beaches below—Kata Noi, Kata, and Karon—this viewpoint is a must-visit for those seeking picturesque landscapes and memorable photo opportunities.
7. Phang Nga Bay
Phang Nga Bay, a stunning natural wonder located in the Andaman Sea off the coast of Phuket. The bay's signature limestone karsts rise dramatically from the emerald-green waters, creating an ethereal seascape that is both awe-inspiring and otherworldly. Iconic landmarks like James Bond Island, with its towering Koh Tapu, add to the bay's allure, drawing visitors into the cinematic landscapes that have graced the silver screen. Panyee Island, a floating fishing village on stilts, offers a glimpse into a unique way of life, while the hidden lagoons of the Hong Islands invite exploration by kayak or boat.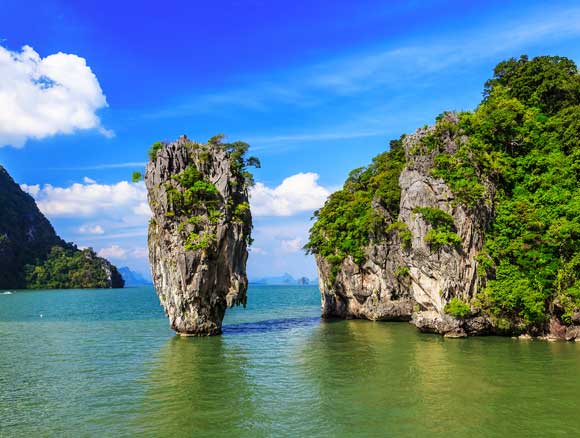 8. Freedom Beach
Freedom Beach, nestled along the southwest coast of Phuket, Thailand, is a hidden gem that beckons with its pristine white sands, crystal-clear waters, and lush tropical surroundings. Accessible by boat or a trek through the jungle, Freedom Beach retains a secluded and tranquil ambiance, making it a perfect escape from the bustling tourist hubs.
9. Promthep Cape
Promthep Cape, often referred to as Laem Promthep, is a dramatic and iconic headland situated at the southernmost tip of Phuket, Thailand. Renowned for its stunning panoramic views, particularly during sunset, Promthep Cape is a popular destination for both locals and tourists alike. As the sun begins its descent, the cape becomes a vantage point where visitors can witness a breathtaking play of colors across the Andaman Sea, with the sun casting hues of orange and pink over the horizon.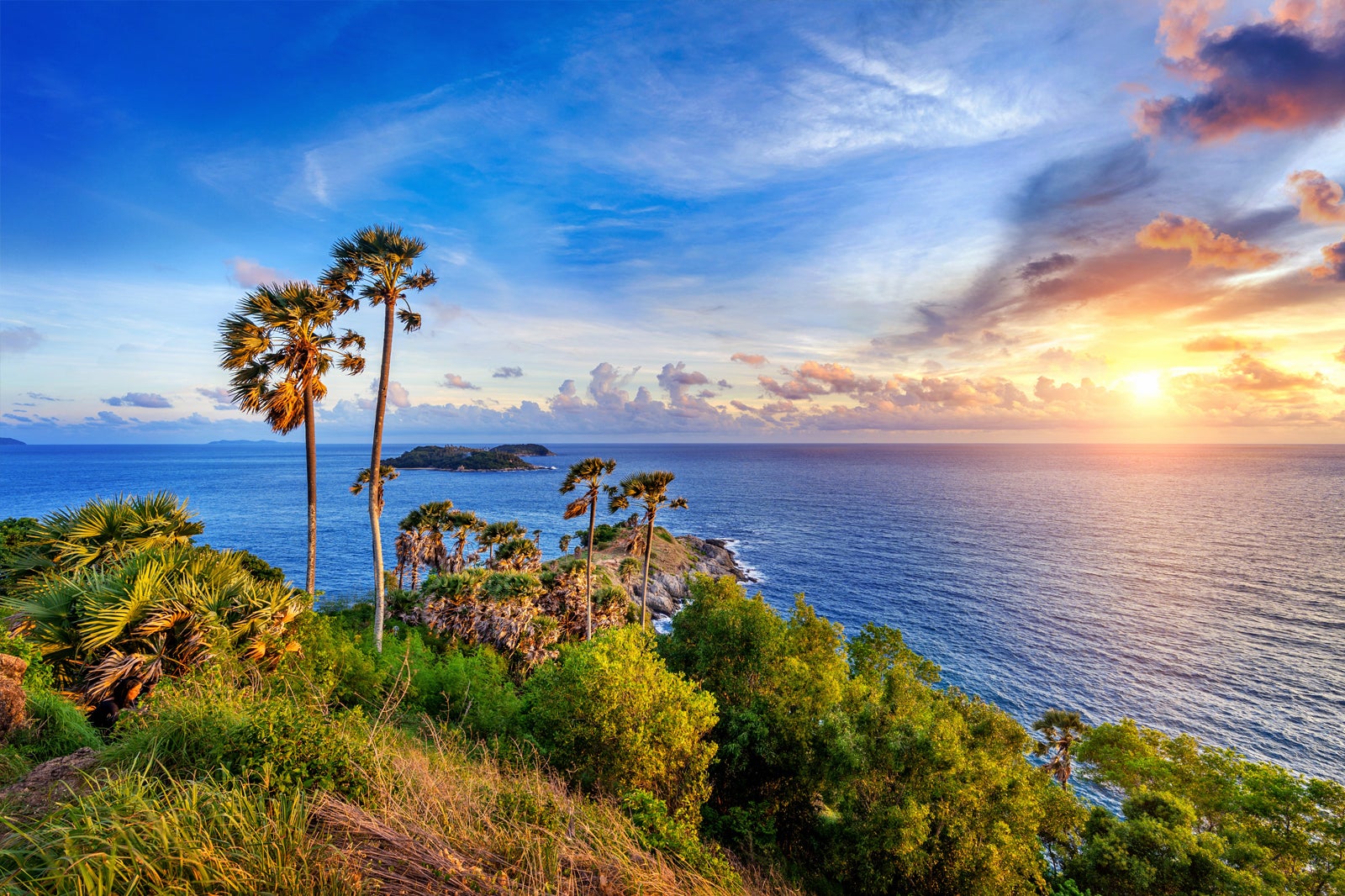 10. Tiger Kingdom
Tiger Kingdom in Phuket provides visitors with a unique opportunity to encounter and interact with various big cats, predominantly tigers, in a controlled environment. The facility offers different packages allowing visitors to enter enclosures with tigers of varying ages, fostering a hands-on experience that includes petting and taking photos with these majestic creatures. Alongside tigers, other big cats like lions, leopards, and cheetahs may also be part of the attraction.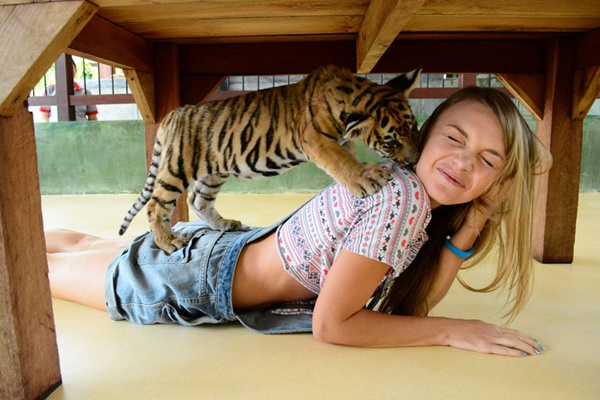 FAQs
1. What is the best time to visit Phuket?
A. The high season, from November to February, is generally considered the best time due to pleasant weather. However, Phuket attracts visitors year-round. The wet season from May to October may have occasional heavy rainfall.
2. How do I get to Phuket?
A. Phuket is accessible by air, with Phuket International Airport serving as the main gateway. Flights connect Phuket to major cities in Thailand and international destinations.
3. What are the popular beaches in Phuket?
A. Patong Beach, Karon Beach, Kata Beach, and Freedom Beach are among the popular beaches in Phuket, each offering a unique atmosphere and activities.
4. Are there cultural attractions in Phuket?
A. Yes, Old Phuket Town is rich in cultural attractions with its Sino-Portuguese architecture, art galleries, and vibrant street art. Wat Chalong is a significant Buddhist temple.
5. Can I rent a motorbike in Phuket?
A. Yes, renting a motorbike is a common mode of transportation in Phuket. However, ensure that you have the necessary licenses and follow safety guidelines.
6. Are there water activities in Phuket?
A. Yes, Phuket offers a range of water activities, including snorkeling, scuba diving, jet-skiing, parasailing, and boat tours to nearby islands.
7. Is it safe to drink tap water in Phuket?
A. It is advisable to drink bottled or filtered water in Phuket to avoid the risk of waterborne illnesses. Most hotels and restaurants provide bottled water.