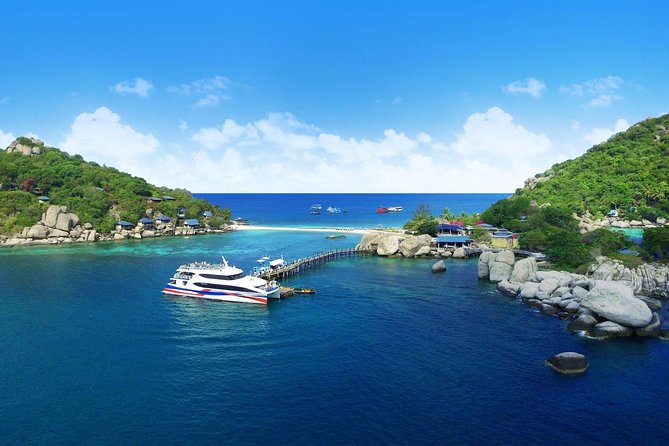 Phuket: Thailand's Tropical Paradise, Thailand's largest island, is a destination that effortlessly blends natural beauty, rich culture, and vibrant entertainment. From pristine beaches to lush landscapes, traditional temples to a bustling nightlife, Phuket has something for every traveler
Phuket boasts some of the world's most stunning beaches. Whether you're seeking the bustling energy of Patong Beach, the family-friendly vibe of Karon Beach, or the serene and pristine Kata Noi Beach, you'll find your perfect spot to soak up the sun, swim in crystal-clear waters, and enjoy water sports.
Phuket's strategic location in the Andaman Sea makes it a perfect base for exploring nearby islands. Day trips to places like the Phi Phi Islands, Phang Nga Bay, and Similan Islands offer breathtaking scenery, snorkeling, and opportunities to witness the iconic limestone karsts rising from the sea.
Top 10 Things to do in Phuket:
1. Phi Phi Island Tour by Sea Angel Big Boat- A Day of Adventure
Phi Phi Islands, one of the most captivating and sought-after destinations in Thailand, beckons you to its crystal-clear waters, stunning landscapes, and vibrant marine life. Join us on the Sea Angel One Day Trip and experience this tropical paradise like never before! Imagine emerald waters, dramatic limestone cliffs, hidden caves, and soft, powdery beaches. The Phi Phi Islands are nothing short of a tropical dream come true, and our one-day tour is designed to help you explore its finest treasures. The adventure begins with a visit to Maya Bay, made famous by the movie "The Beach." You can swim in the crystal-clear bay and take memorable photos of this iconic location. your trip will be the sumptuous lunch provided onboard. Savor a delectable buffet, featuring both Thai and international dishes, all while surrounded by the breathtaking seascape. Our cuisine is prepared fresh and will surely satisfy your cravings.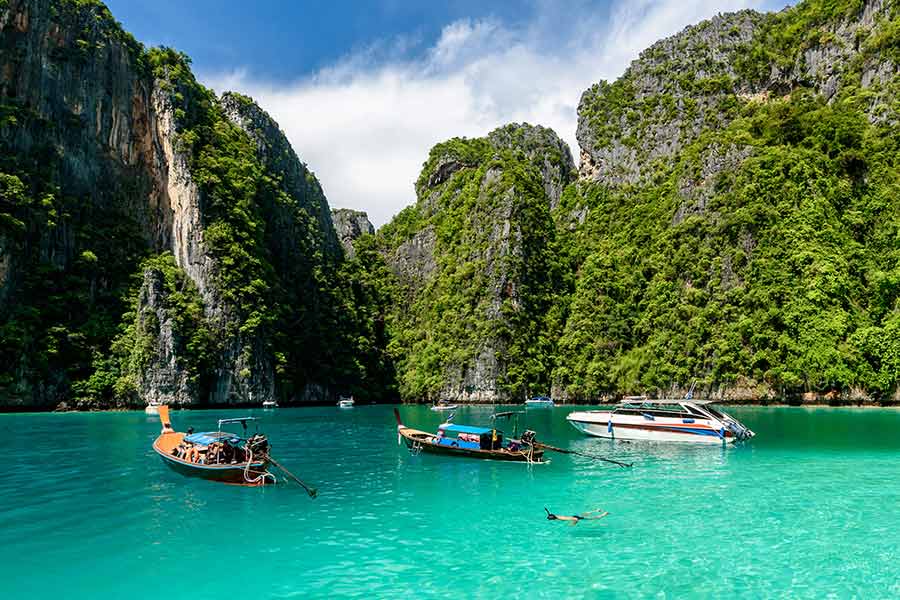 2. Discover the Iconic James Bond Island
Your dream can become a reality on our James Bond Island tour, a captivating adventure through the scenic beauty of Phang Nga Bay. Join us for a day of exploration, discovery, and a touch of cinematic history. The star of the show, James Bond Island, is the real-life filming location of the 1974 James Bond movie "The Man with the Golden Gun." Its unique limestone karsts and picturesque setting have made it an iconic attraction that draws visitors from all corners of the globe. Your day begins as you set sail on our comfortable boat, venturing into the emerald waters of Phang Nga Bay. A friendly and experienced crew will be with you every step of the way, ensuring your safety and comfort. Your tour takes you to the iconic James Bond Island, where you can explore the rugged landscapes, dramatic limestone formations, and pristine beaches. It's the perfect spot for taking photographs and enjoying a piece of movie history.As you cruise through the bay, you'll enter a lush mangrove forest, home to diverse wildlife and a tranquil environment. Enjoy a delicious lunch onboard while taking in the breathtaking surroundings of Phang Nga Bay. Visiting James Bond Island is a bucket-list experience that promises awe-inspiring scenery and unforgettable moments. Step into the cinematic world and explore the real-life backdrop of 007's adventure.
3. Unveiling Phuket's Charm: A Half-Day City Tour
Phuket Half-Day City Tour is your passport to exploring the island's rich heritage, captivating architecture, and bustling markets. a historic district filled with Sino-Portuguese architecture, colorful streets, and a fusion of cultural influences. Our experienced guide will lead you through the streets, sharing the town's intriguing history and showcasing the unique blend of Thai and Chinese heritage. No visit to Phuket is complete without some souvenir shopping. Enjoy free time to explore the vibrant markets and boutiques of Old Phuket Town. Discover unique items, handicrafts, and textiles to take home as mementos of your journey.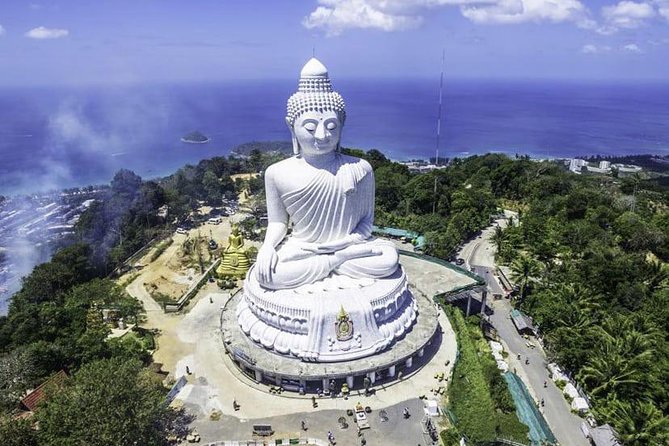 4. Phuket Fantasea Show: Where Fantasy Meets Reality
Phuket Fantasea Show is a spectacular cultural and entertainment extravaganza that takes you on a journey into the heart of Thai mythology and tradition. This vibrant show, set within the elaborate Phuket Fantasea complex, offers a mesmerizing blend of storytelling, stunning performances, and awe-inspiring special effects. Let's delve into the enchanting world of Phuket Fantasea! As the sun sets over Kamala Beach, the magic of Phuket Fantasea begins to unfold. The grand entrance, adorned with majestic elephant statues, sets the stage for an evening of mythical adventure.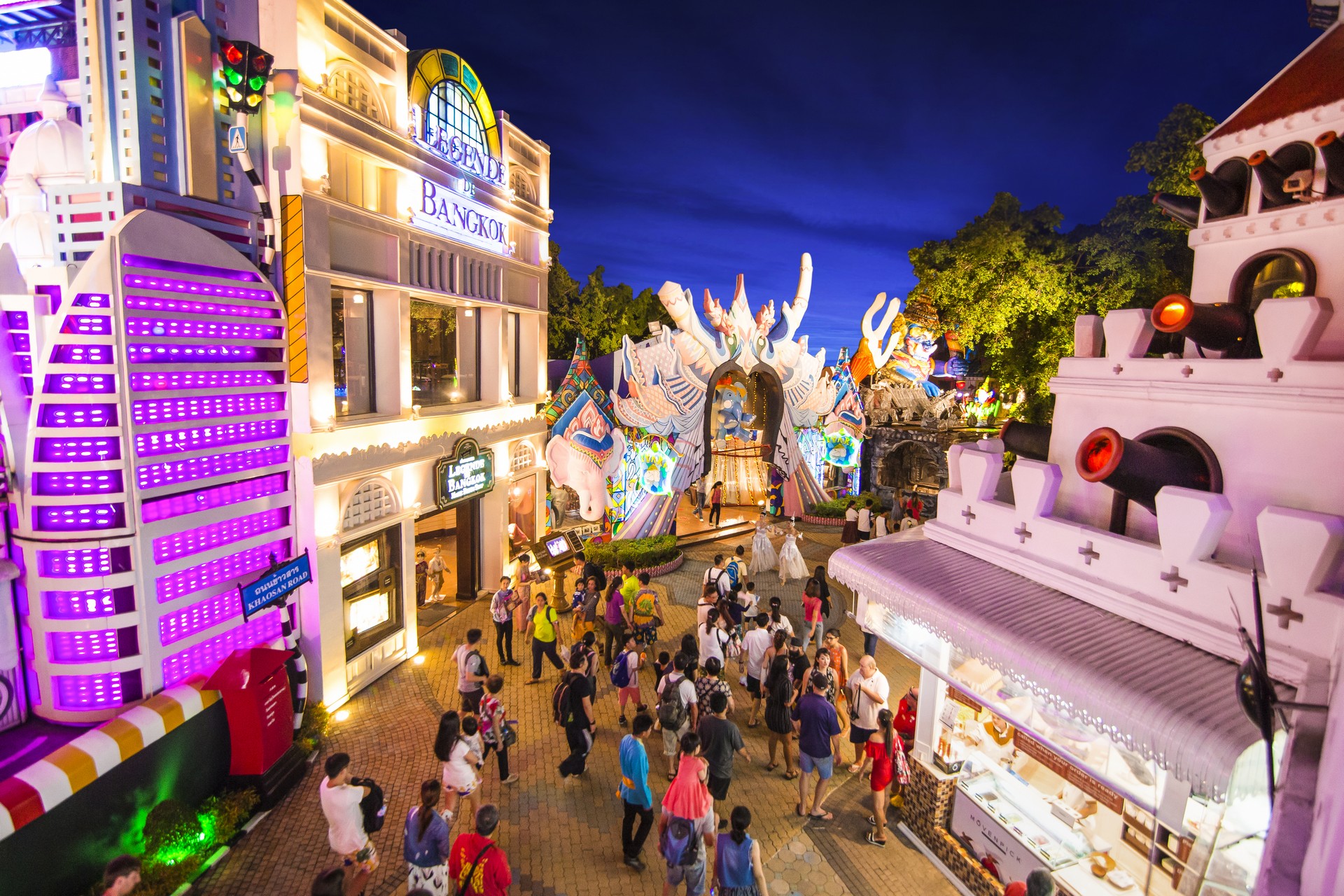 5. Andamanda Water Park Phuket: Where Fun Meets Sun and Splash
Andamanda Water Park in Phuket is the ultimate destination for families, friends, and thrill-seekers. Andamanda Water Park promises a day filled with non-stop water fun. From exhilarating water slides to wave pools and lazy rivers, the park has something for everyone. Whether you're an adrenaline junkie or just looking for a relaxing day in the water, this park has got you covered. Get your heart racing on a variety of water slides, each offering a unique experience. Whether it's the twists and turns of the Spiral Slide or the sheer drop of the Freefall Slide, you're guaranteed an exhilarating ride.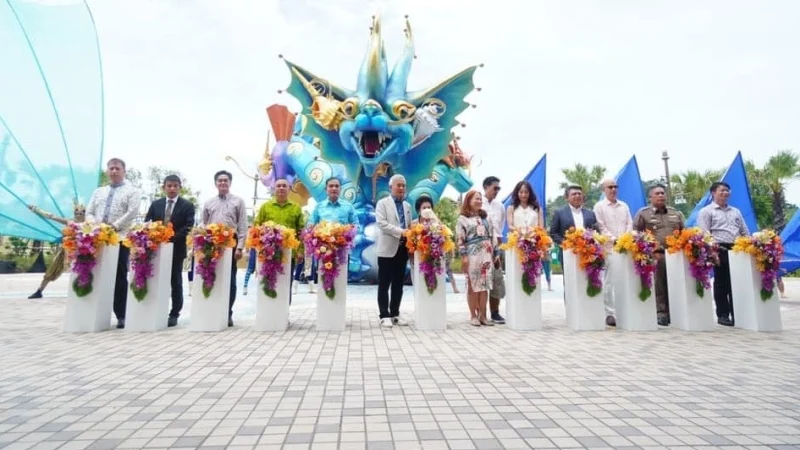 6. Romantic Sunset Cruise in Paradise: The Sea Angel Experience in Phuket
The sun begins its descent, casting a warm, golden glow over the Andaman Sea, as you and your loved one set sail on a luxurious yacht. Your journey is filled with romance, stunning views, and unforgettable moments. Welcome to the Sea Angel Romantic Sunset Cruise in Phuket, a magical experience for couples seeking to create memories that will last a lifetime. The Sea Angel is not just a boat; it's a haven for romance. As you step aboard, you'll be greeted by our attentive and professional crew, ready to cater to your every need. The yacht's elegant design and spacious deck provide the perfect ambiance for a romantic evening. The Sea Angel Romantic Sunset Cruise is an enchanting experience that will strengthen your bond and create memories you'll cherish forever. Whether you're celebrating a special occasion or simply seeking a romantic escape, this cruise promises to be a magical and unforgettable journey.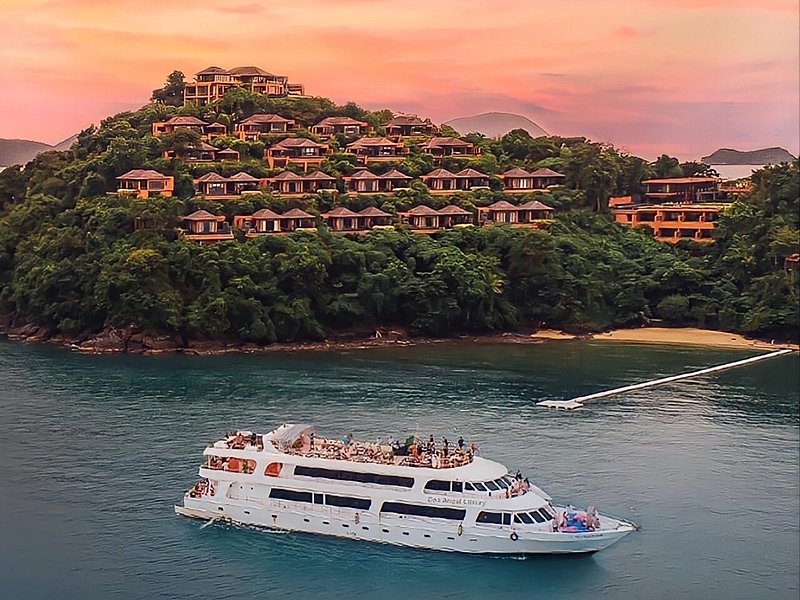 7. Simon Cabaret Show Phuket: A Dazzling Spectacle of Glamour and Talent
Phuket's renowned Simon Cabaret Show is a mesmerizing blend of artistry, glitz, and entertainment that captivates audiences from around the world. This cabaret performance is a celebration of talent, creativity, and the freedom to express oneself in a world of extravagant glamour. The performances are renowned for their stunning costumes, flamboyant makeup, and captivating choreography. The show's extravagant setting is the perfect backdrop for an evening of glitz and glamour. One of the show's hallmarks is its cast of talented performers, often referred to as "ladyboys" or "kathoeys." These artists are celebrated for their incredible skills in dancing, singing, and entertaining. The cabaret provides them with a platform to showcase their talents, and they do so with unmatched grace and charisma.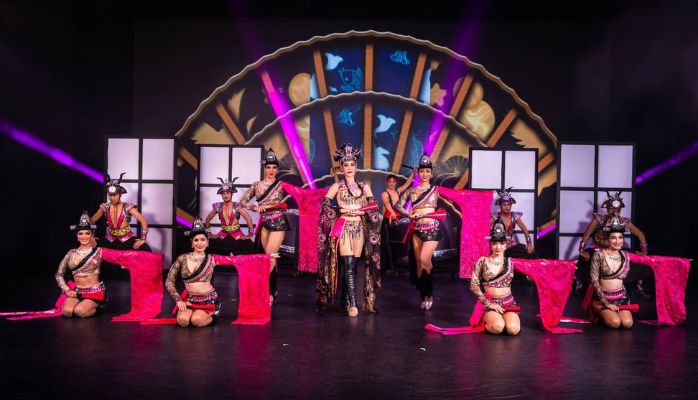 8. Phuket Elephant Jungle Sanctuary: A Journey of Compassion and Connection
In the heart of Phuket's lush jungle, away from the bustling beaches and vibrant nightlife, lies a sanctuary where elephants are the stars of the show. The Phuket Elephant Jungle Sanctuary offers a unique and ethical elephant encounter, inviting visitors to connect with these gentle giants in a responsible and compassionate environment. The elephants at the Phuket Elephant Jungle Sanctuary have been rescued from various challenging backgrounds, including logging and tourism industries. Here, they find a safe haven where they are respected and cared for, living out their lives with dignity and love. One of the highlights of your visit will be the chance to get up close and personal with the elephants. You can feed, bathe, and walk alongside them in their natural habitat, fostering a genuine connection with these gentle giants.
9. Soar Above the Treetops: Flying Hanuman Ziplining Adventure in Phuket
If you're seeking an adrenaline-pumping and breathtaking adventure amidst Phuket's lush rainforests, Flying Hanuman Ziplining is your ticket to an unforgettable experience. Prepare to soar above the treetops, zipping through the jungle, and discovering the hidden beauty of the island's interior. it's an aerial adventure that combines excitement, natural beauty, and an appreciation for Phuket's rainforest ecosystem. From the moment you arrive, you'll be immersed in the lush greenery and vibrant flora of the jungle. The highlight of Flying Hanuman is, of course, the ziplining courses. You'll have the chance to glide through the air on a series of ziplines, each with varying lengths and heights. The sensation of soaring above the rainforest canopy is exhilarating and provides unparalleled views of the natural surroundings.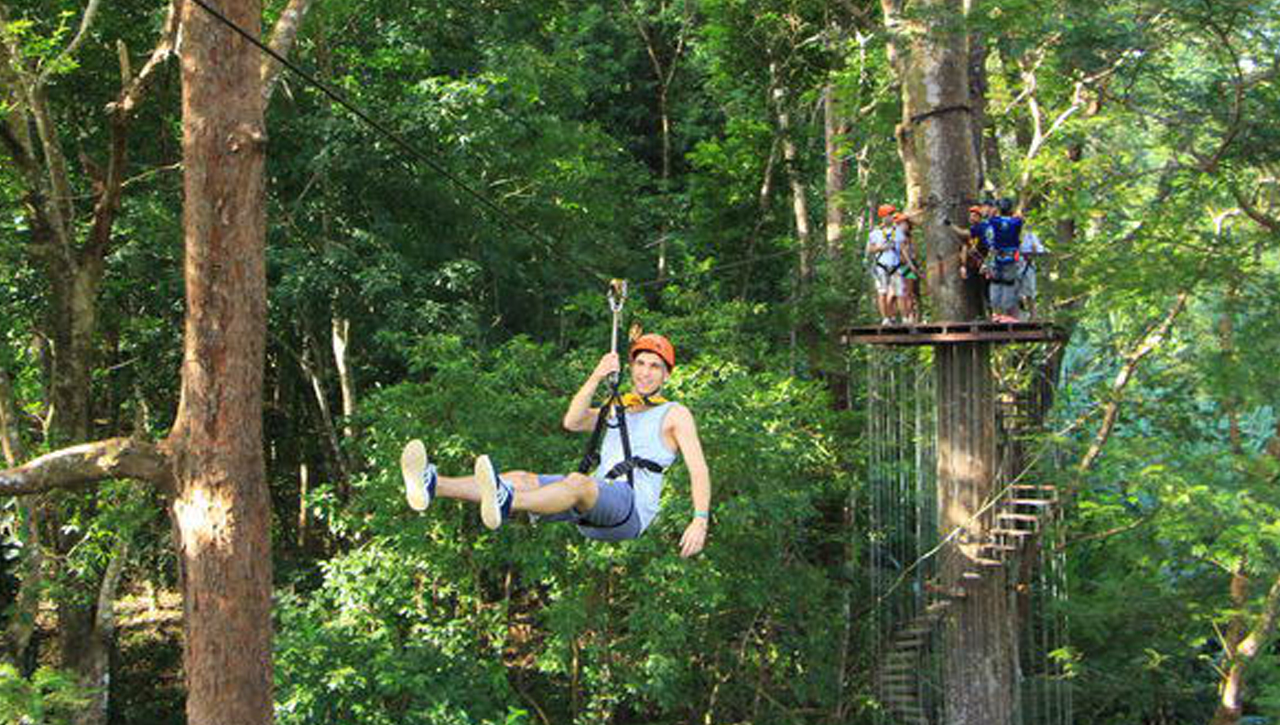 10. Khao Sok National Park Day Trip from Phuket
This adventure promises lush rainforests, emerald lakes, stunning limestone formations, and encounters with Thailand's diverse flora and fauna. Khao Sok National Park is a treasure trove of natural beauty, boasting some of Thailand's most spectacular landscapes. Lush rainforests, towering limestone karsts, and the tranquil Cheow Lan Lake make it a paradise for eco-adventurers. Khao Sok National Park is dedicated to preserving its pristine environment. Responsible tourism practices, including waste management and respectful interaction with wildlife, are observed throughout the day trip. A day trip to Khao Sok National Park from Phuket is more than just a nature excursion; it's an immersive journey into Thailand's wilderness. It offers an opportunity to escape the tourist crowds and connect with the serene beauty of the rainforest and lake.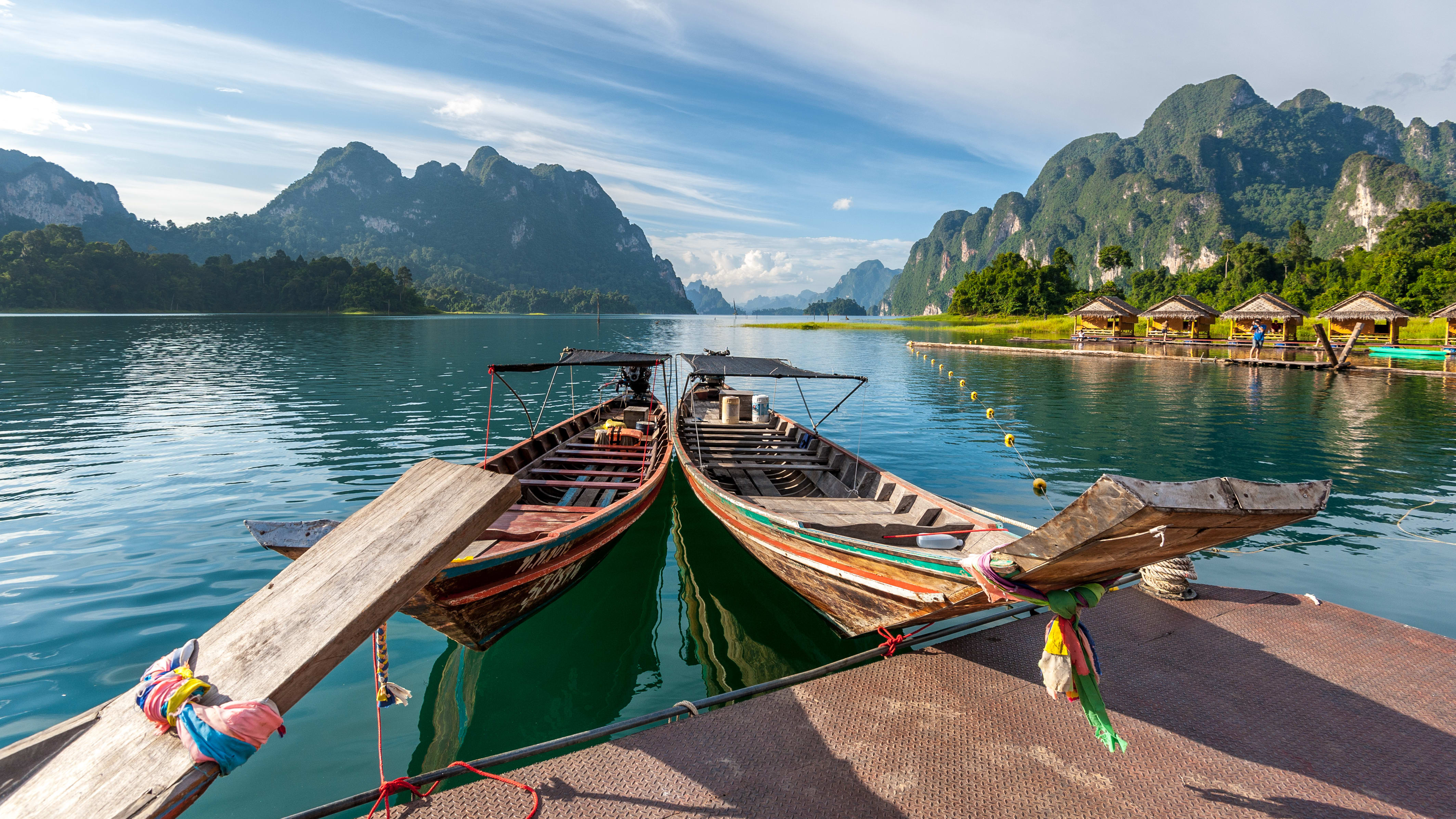 ​​​​​​FAQs
1. What is Phuket known for?
A.Phuket is known for its stunning beaches, vibrant nightlife, water sports, cultural attractions, and beautiful natural scenery.
2. How can I get to Phuket?
A.You can reach Phuket by flying into Phuket International Airport, which is well-connected to major cities in Asia and other parts of the world. Alternatively, you can also take a bus or ferry from nearby provinces.
3. What are the best beaches in Phuket?
A.Some of the best beaches in Phuket include Patong Beach, Karon Beach, Kata Beach, Nai Harn Beach, and Freedom Beach.
4. Is Phuket safe for tourists?
A.Phuket is generally safe for tourists. However, it's important to take standard safety precautions, such as safeguarding your belongings and being cautious when swimming.
5. Do I need travel insurance for my trip to Phuket?
A.While travel insurance is not mandatory, it's highly recommended. It can provide coverage for medical emergencies, trip cancellations, and other unexpected events during your trip.
6. What's the weather like in Phuket?
A.Phuket has a tropical climate with a rainy season from May to October and a dry season from November to April. The weather is generally hot and humid year-round.
7. Are there any cultural norms I should be aware of in Phuket?
A.When visiting temples, it's essential to dress modestly, covering your shoulders, knees, and cleavage. It's also respectful to remove your shoes before entering temple buildings.
8. What are some popular water activities in Phuket?
A.Phuket offers a wide range of water activities, including snorkeling, scuba diving, island hopping, jet-skiing, parasailing, and boat tours to explore the beautiful Andaman Sea.