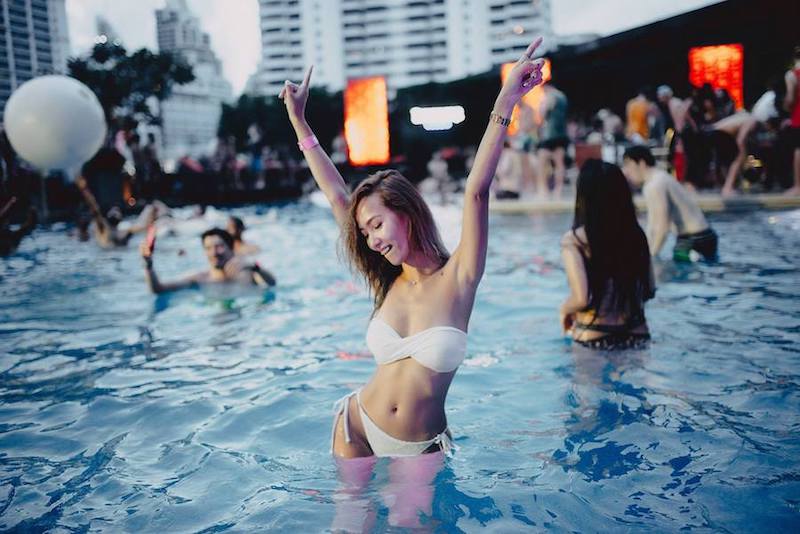 The famous Southeast Asian country, Thailand is known for its exotic tropical beaches, royal palaces, ancient ruins, temples displaying Buddha and other famous exotic locations. Thailand is home to the world's smallest mammal bumblebee bat to the largest fish whale shark in Thai waters.
Each year approximately around 6,00,00,000 people visit Thailand, made up of 1,430 islands many of which are also being showcased in famous Hollywood flicks.
It doesn't matter if you are travelling Thailand solo or with your friends, It's one of the best places in the world to fulfil your wanderlust and travel goals.
Let's look at the Top 10 places to visit in Thailand :
Bangkok
Thailand's capital city, Bangkok is known for its ornate shrines, nightlife, top-notch museums, royal palaces, and temples. The famous Chao Phraya river which earned the title of Venice of the East for Bangkok feeds its network of canals. Bangkok is a fascinating place, which never goes to sleep there's always a hive of activity in the city. While you are in Bangkok visit Wat Pho which is home to the famous reclining Buddha, from traditional teak buildings like Jim Thompson House and M.R. Kurit's House both houses turned museums into jaw-dropping skyscrapers and shopping malls. Bangkok is also famous for its exuberant nightlife from rich rooftop lounges to basic bars and nightclubs.
Phuket
Phuket, the famous mountainous island in the lap of the Andaman Sea, is the home of some of the most famous Thai beaches. The island stores many high-end resorts, spas, and restaurants. Patong is the main resort town which has many nightclubs, bars, and discos to offer to its tourists. The island is also known for its deepwater scuba diving among coral reefs, other attractions include Wat Chalong Buddhist temple complex and Phuket Big Buddha statue.
Chiang Mai
Chiang Mai is a city located in the mountainous northern region of Thailand which was founded in 1296, also it was the capital of the independent Lanna Kingdom until 1558. It's also the home to hundreds of elaborate Buddhist temples, the city also offers treks into nearby mountains for temple visits, elephant training, or isolated hill tribe villages.
Kanchanaburi
It's a town in west Thailand, famous for the Death Railway, built during WWII. The Death Railway to Burma, its construction thousands of Asian labourers and POWS, died. Various museums and war cemeteries present all the information regarding the city and its bridge.
Ayuthaya
Ayuthaya city is located in the Chao Phraya River valley in Thailand and was founded in 1350. Once declared one of the most magnificent cities on earth, Ayuthaya was a spectacular site consisting of more than 400 temples. The ruins of Ayuthaya are now a major tourist attraction in Thailand. It's just 80 km from Bangkok and easily commutable either by bus, van, train or boat.
Khao Sok National Park
It's considered to be Thailand's most beautiful wildlife reserve, it covers jungle forests, limestone karsts, rivers, and lakes. It's home to some of the most magnificent Thai wildlife. There are several beautiful and jaw-dropping trek trails through the jungle, beautiful photographic waterfalls, and natural swimming pools.
Phanom Rung
This place is sitting on an extinct volcano in northeastern Thailand. It's a Hindu shrine dedicated to the Hindu god Lord Shiva. It was built to represent the home of Lord Shiva's home Mount Kailash between the 10th and 13th centuries. The locals celebrate the Phanom Rung festival around April, with ancient Brahmin ceremonies and sound and light shows.


Pai
Once a quiet village in northern Thailand, Pai is a town in the Mae Hong Soon province of northern Thailand. It's known for its hot springs, waterfalls, downtown, food stalls and handicraft shops. In the west of the town lies Baan Santichon, which is a traditional Chinese village consisting of clay houses and serving Yunnan cuisine.
Lopburi
If you are a travel enthusiast as well as interested in history and culture then this place is a must-visit for you in Thailand. It's one of the oldest cities in Thailand and was also the former capital of Thailand. There are a lot of monuments and cultural heritage sites and is also famous for trekking and rock climbing.
Pattaya City
It's a city on Thailand's gulf coast and is famous for its beaches, resorts, shopping malls, cabaret bars, and 24-hour clubs. Jet Skiing and Parasailing are what make it's beachfront famous. Neon-lit walk street is full of bars, discos, and massage parlours. Nakula bay in the north also offers exotic beaches and many shrines with Hindu and Buddhist carvings.