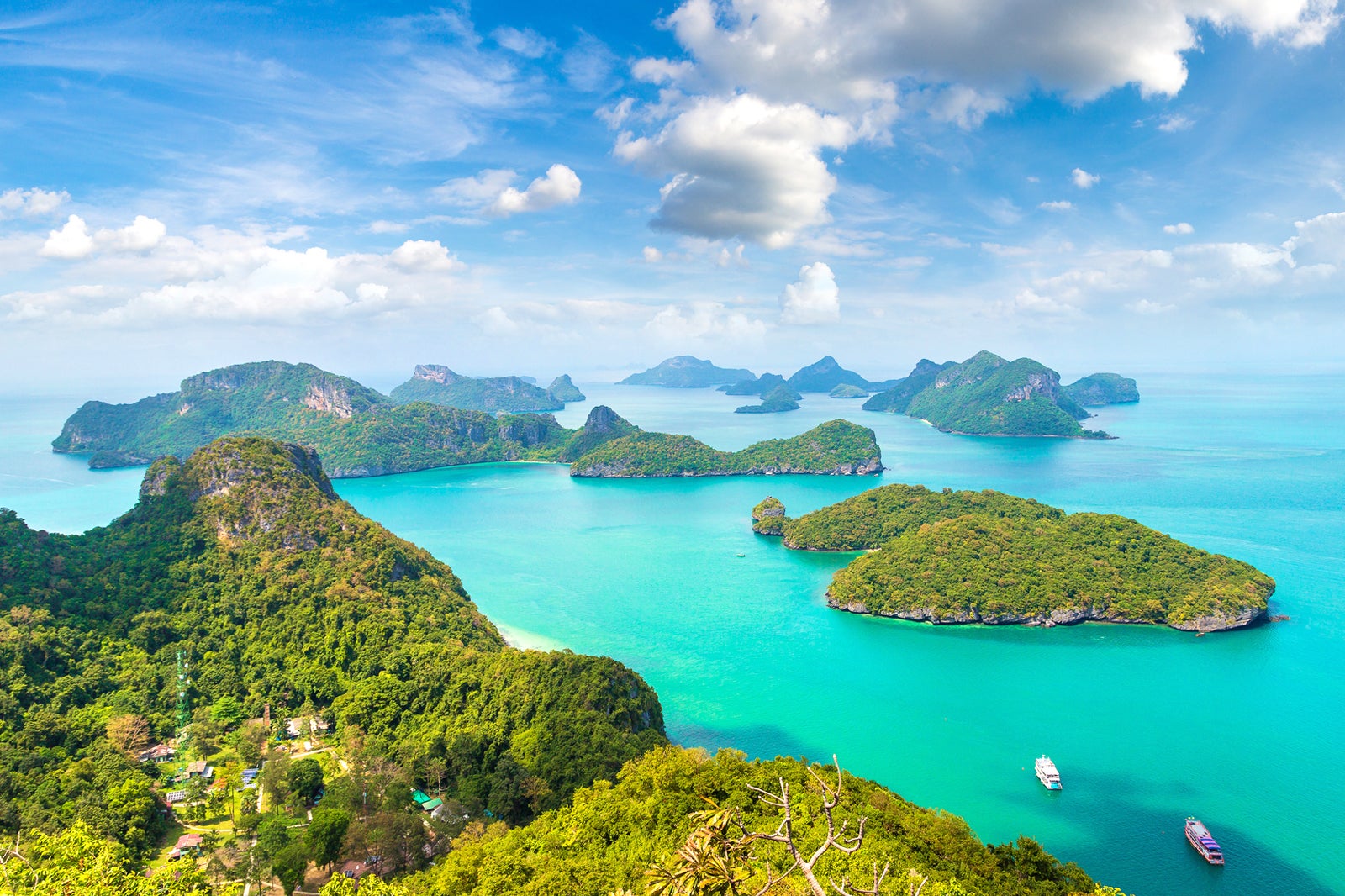 Koh Samui, the second-largest island in Thailand, offers a perfect blend of relaxation and adventure. Whether you're seeking a tranquil beach retreat or exciting water sports, this island has something for every type of traveler. If you're dreaming of a sun-kissed escape to an idyllic tropical paradise, Koh Samui, Thailand, might be your ideal destination. Nestled in the Gulf of Thailand, this island boasts pristine beaches, lush jungles, and a vibrant culture. It is renowned for its stunning beaches. From the lively Chaweng Beach to the peaceful Bophut Beach and the serene Maenam Beach, you can find the perfect stretch of sand to unwind, swim, or simply soak in the sun. For the adventurous at heart, Koh Samui offers a plethora of water-based activities, including snorkeling, scuba diving, kayaking, and paddleboarding. You can also embark on boat tours to nearby islands or go on a fishing expedition.
Don't miss the opportunity to explore Koh Samui's lush interior. Visit the enchanting Na Muang Waterfalls, trek through pristine jungles, and discover the island's unique flora and fauna. Koh Samui is steeped in culture and tradition. Explore the intricate architecture of the Big Buddha Temple (Wat Phra Yai), witness the spectacle of the Mummified Monk at Wat Khunaram, and participate in local festivals to immerse yourself in the island's rich heritage. This tropical gem in Thailand offers an unforgettable experience that will leave you yearning to return. Koh Samui is not just a destination; it's an escape into the heart of tropical bliss.
Most Famous Places to visit in Koh Samui :
1. Chaweng Stadium Muay Thai Boxing in Koh Samui
If you're looking for an authentic and adrenaline-pumping experience in Koh Samui, Chaweng Stadium is the place to be. Muay Thai, the "Art of Eight Limbs," is deeply ingrained in Thai culture, and this stadium is where you can witness the skill, strength, and tradition of this martial art firsthand. The atmosphere is electric as fighters enter the ring, showcasing their prowess in a thrilling display of athleticism and technique. The crowd's cheers and the rhythmic sounds of traditional Thai music create an unforgettable ambiance, making it a must-visit attraction for those interested in combat sports and local culture. Whether you're an avid Muay Thai fan or a curious traveler, Chaweng Stadium offers an authentic and exciting glimpse into this time-honored sport. The bouts are fierce, the energy is contagious, and the experience is bound to leave you with lasting memories of the Muay Thai spirit in Koh Samui.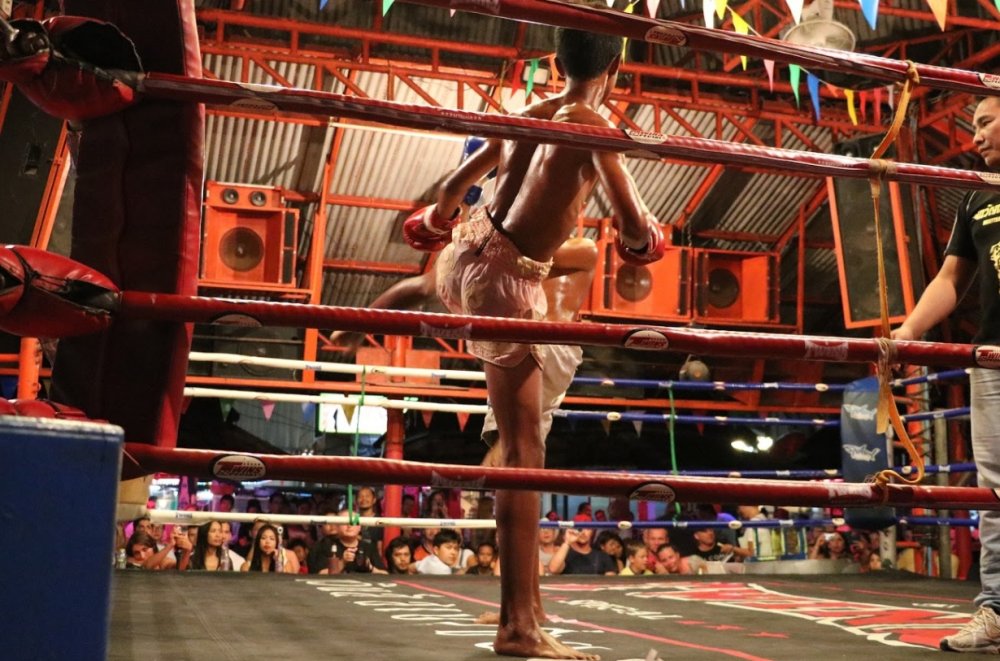 2. Island Hopping Bliss: Koh Lanta's 4 Island Tour by Longtail Boat
For those seeking sun, sea, and adventure in the stunning paradise of Koh Lanta, the 4 Island Tour by longtail boat is a journey not to be missed. Setting off from the tranquil shores of Koh Lanta, this day tour unveils the magic of four enchanting islands. As you glide through the turquoise waters on a traditional longtail boat, you'll discover the unique beauty of Koh Ngai, Koh Mook, Koh Chuak, and Koh Kradan. Each island is a world of its own, offering pristine beaches, hidden lagoons, and underwater wonders. Snorkel in crystal-clear waters, explore mysterious caves, and bask in the sun on powdery white sands. With a fresh seafood lunch served on one of the islands, you'll savor the local flavors while surrounded by nature's beauty. The 4 Island Tour by longtail boat promises a day filled with exploration, relaxation, and the bliss of island hopping, leaving you with memories of paradise etched in your heart. It's not just a tour; it's a journey into the serene and captivating world of Koh Lanta's neighboring islands.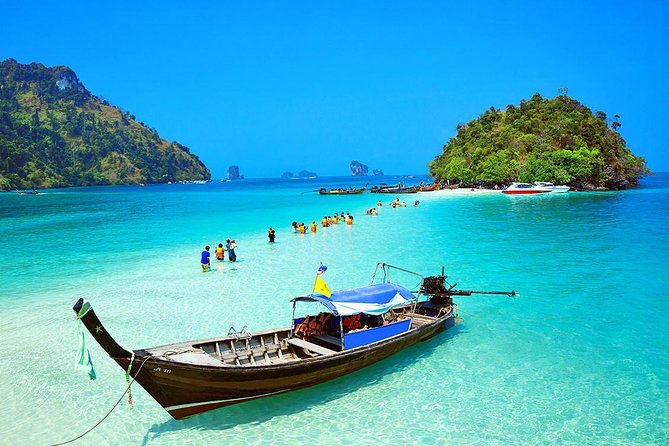 3. Into the Wild: Exploring Koh Samui's Jungle Safari Tour
When you think of Koh Samui, pristine beaches and crystal-clear waters might come to mind. However, this tropical paradise also hides an enchanting secret – its lush jungle interior. A jungle safari tour on this island unveils a world of natural wonders and adventure. As you journey through dense rainforests and off-the-beaten-path trails, you'll encounter hidden waterfalls, exotic wildlife, and panoramic vistas. The safari adventure includes activities like trekking, elephant rides, and jeep excursions, immersing you in the heart of the island's wilderness. With expert guides leading the way, you'll gain insights into the unique flora and fauna of the jungle, making it an educational experience too. For nature enthusiasts and thrill-seekers, a jungle safari tour in Koh Samui is a captivating way to explore the island's untamed side and discover the serenity of the wild.
4. The Ultimate Thrill of Skyhawk Adventure in Samui
For those who crave adventure with a side of adrenaline, Samui's Skyhawk Adventure is the ticket to an unforgettable experience. This thrilling escapade takes you to the skies, offering panoramic views of Koh Samui that few get to witness. The heart-pounding adventure of paragliding or powered paragliding is sure to get your heart racing. As you take flight, the warm tropical breeze guides you over pristine beaches, lush forests, and sparkling waters. The thrill of soaring high is complemented by the island's natural beauty, creating a visual feast for your senses. Whether you're an experienced thrill-seeker or a first-time flyer, the Skyhawk Adventure in Samui promises an exhilarating journey you'll remember for a lifetime.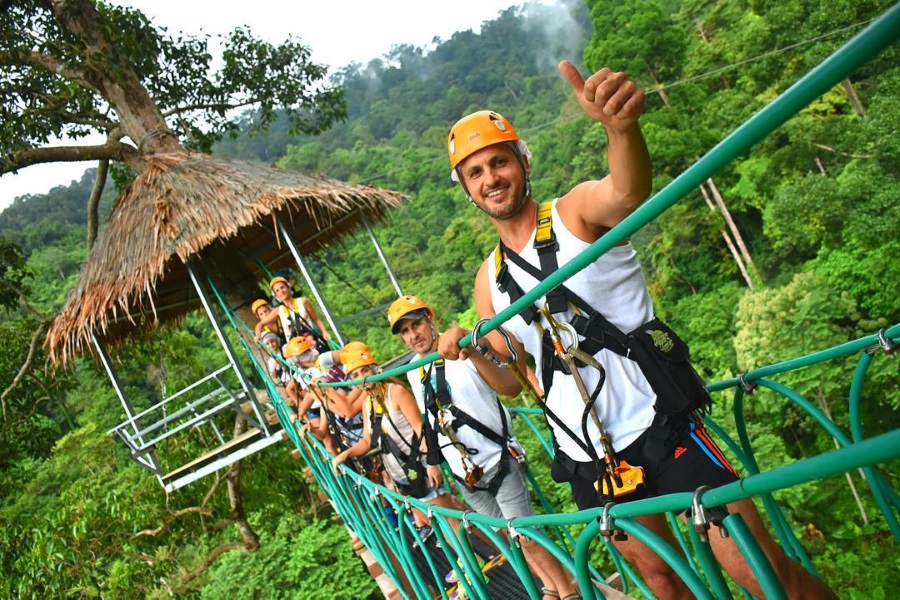 5. Defying Gravity: Koh Samui Indoor Skydiving by EasyFly
Are you ready to take your sense of adventure to new heights, or rather, to the skies without leaving the ground? Koh Samui's Indoor Skydiving by EasyFly offers an exhilarating and gravity-defying experience that's perfect for adrenaline junkies and curious thrill-seekers alike. Inside the vertical wind tunnel, you'll feel the rush of free-fall without the need for an actual airplane. The sensation of floating weightlessly in the air is an unforgettable adrenaline rush, all while enjoying the safety of an indoor environment. Whether you're a seasoned skydiver looking to practice your skills or a first-timer eager to experience the excitement of free-fall, Koh Samui's indoor skydiving experience will leave you soaring with exhilaration. It's not just a flight; it's a thrilling adventure that will make you feel like you're defying gravity in the heart of paradise.

6. Angthong National Park Snorkeling Day Tour by Speedboat from Koh Samui
When you're in Koh Samui, embarking on a day tour to Angthong National Park is a must for nature lovers and adventure seekers. The journey begins as you hop aboard a speedboat, whisking you away to a pristine paradise in the Gulf of Thailand. Angthong National Park, with its 42 untouched islands, offers a stunning backdrop for your adventure. The highlight of the day is undoubtedly snorkeling in the crystal-clear waters, where you'll discover a kaleidoscope of marine life and vibrant coral reefs. As you explore underwater worlds, you'll be surrounded by schools of tropical fish and the wonders of the sea. The day tour also includes hikes to viewpoints for breathtaking panoramas, visits to pristine beaches, and a glimpse into the park's unique flora and fauna. With each moment, you'll find yourself immersed in the beauty of nature and the thrill of exploration, making the Angthong National Park Snorkeling Day Tour an unforgettable experience for those visiting Koh Samui. It's not just a tour; it's a journey into the heart of a tropical marine wonderland.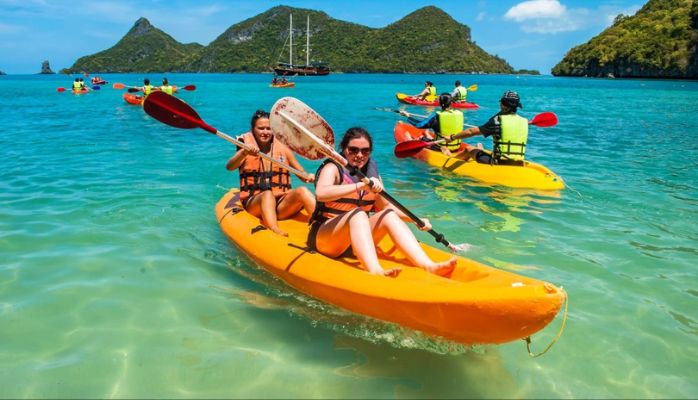 7. Off Road ATV Tours by X-Quad Samui
X-Quad Samui's Off-Road ATV Tours offer a thrilling adventure that will ignite your sense of excitement. These all-terrain vehicles are your passport to exploring the island's hidden gems, taking you off the beaten path and into the heart of its wild landscapes. As you rev your engine and embark on an off-road journey, you'll traverse lush jungles, cross streams, and conquer rocky trails, all while being surrounded by the island's untamed beauty. X-Quad Samui provides a range of tours suitable for all levels, from beginner to experienced riders. The exhilaration of riding through Koh Samui's off-road terrain is an experience you won't soon forget, creating lasting memories of adventure and exploration.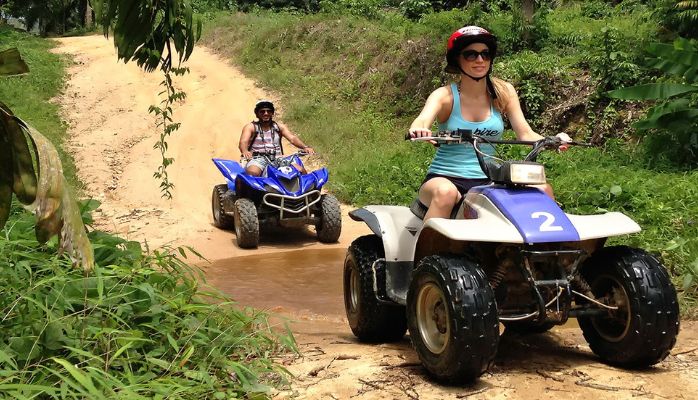 8. Beneath the Surface: Discover Scuba Diving Course in Koh Samui
Koh Samui offers a gateway to the underwater world like no other. The Discover Scuba Diving course is your opportunity to take your first breaths underwater and embark on an adventure that will unlock a new realm of exploration. Under the guidance of certified instructors, you'll learn the basics of scuba diving, from essential skills to understanding the underwater environment. Then, you'll descend into the clear, azure waters, where a vibrant marine world awaits. Encounter colorful coral reefs, exotic marine life, and the serenity of the underwater realm. The Discover Scuba Diving course is a transformative experience that will leave you with a lifelong passion for the ocean and a profound connection to the beauty of Koh Samui's underwater landscapes. It's not just a course; it's a journey into the mesmerizing depths of the sea.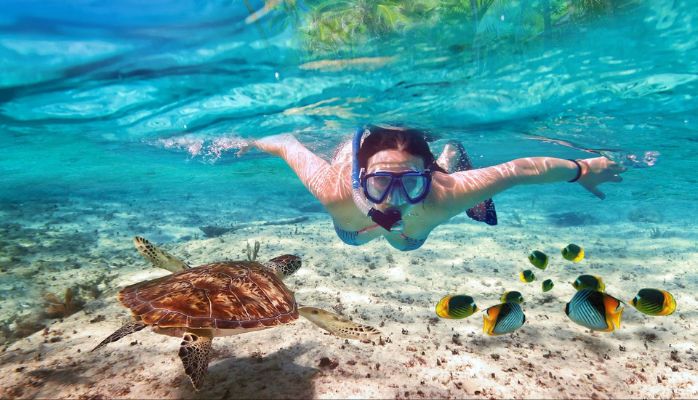 ​​​​​​FAQs
1. When is the best time to visit Koh Samui?
A. The best time to visit Koh Samui is during the dry season, which typically spans from December to February. This period offers pleasant weather with less rainfall.
2. How can I get to Koh Samui?
A. You can reach Koh Samui by air via Samui International Airport, by ferry from the mainland or nearby islands, or by bus from various cities in Thailand.
3. Do I need a visa to visit Koh Samui?
A. Depending on your nationality, you may be eligible for a visa-free entry or a visa on arrival for a certain duration. Check the specific visa requirements for your country.
4. What are the must-visit attractions in Koh Samui?
A. Key attractions include the Big Buddha Temple (Wat Phra Yai), Chaweng Beach, Lamai Beach, the Ang Thong Marine Park, and the Fisherman's Village.
5. Is Koh Samui a safe destination for travelers?
A. Koh Samui is generally considered safe for tourists. Exercise typical safety precautions, like safeguarding your belongings, and be mindful of swimming conditions and local customs.
6. What water activities are available in Koh Samui?
A. Koh Samui offers a wide range of water sports, including snorkeling, scuba diving, kayaking, paddleboarding, jet-skiing, and fishing trips.
7. Are there opportunities for hiking and outdoor activities on the island?
A. Yes, you can explore the island's lush interior, hike to waterfalls like Na Muang, and partake in jungle safaris or ATV adventures.
8. What is the local cuisine like in Koh Samui?
A. Koh Samui offers a diverse culinary scene with an abundance of seafood. Don't miss trying local dishes like Tom Yum, Pad Thai, and the island's unique seafood specialties.